Air Duct Cleaning in the Gulf Coast & Central FL
Say Hello to a Healthier, Safer Home!
When was the last time you thought about your air ducts? If you can't remember, you're not alone. Many homeowners find that their air ducts are out of mind because they are out of sight. Unfortunately, this mindset has a huge impact on the quality of your home's indoor air—and, ultimately, your health.
Central air ducts are a breeding ground for mold, pollen, bacteria and other contaminants—and repeated exposure to polluted air may exacerbate allergies, asthma, headaches, eye irritation and respiratory conditions. However, scheduling the air duct cleaning your ductwork requires keeps these unwanted contaminants and symptoms out of your home!
At Cornerstone Pros, we perform quality air duct cleaning! This important IAQ service is crucial for securing a healthier and safer indoor environment. It effectively removes allergens and pathogens from your ductwork to improve the quality of your home's indoor air. Clean ductwork also improves airflow and increases HVAC efficiency, which saves you money and lengthens your system's lifespan.
The Ins & Outs of Air Duct Cleaning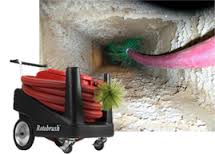 Your home's air ducts are the lungs of your HVAC system. Their role is to circulate the air from your cooling and heating systems in and out of your home's living space, which provides consistent interior comfort. This means all of the air in your home has to travel through your air ducts before it can enter your living space.
Here's the problem: According to the National Air Duct Cleaners Association (NADCA), an average six-room home can create up to 40 pounds of dust each year. Where does much of this dust end up? Your ductwork! Since all of the air in your home travels through your air ducts before entering your living space, dust, allergens and other pathogens hiding inside your air ducts enter your living space, too. Once inside your indoor space, they wreak havoc on the quality of your home's air. Breathing in filthy air has a direct affect on your health!
This is why it's important to have clean ductwork. Air duct cleaning whisks away dust and debris from your HVAC system's supply and return ducts as well as the registers and diffusers in each room. This means contaminants will no longer invade your living space, allowing you to enjoy cleaner, healthier air.
Do I Need My Air Ducts Cleaned?
According to the NADCA, you should have your air ducts professionally cleaned every three to five years. However, air duct cleaning may be required more often if your energy bills have been on the rise and there's:
Visible mold growth near your ducts
Floating particles being released from your ductwork
Rodents living in your ductwork
Clogs of dust in your equipment
Strange noises coming from your ductwork
While any household or business may benefit from routine air duct cleaning, it can be especially important when:
Occupants smoke indoors or have pets
Debris limits HVAC airflow
Water damage or mold growth occurs in ducts
Microbial growth or "slime" is found in ducts
Dust or cobwebs are discharged from supply registers
Musty odors are emitted from ducts
Rodents have infested your home
Don't Delay! Schedule Air Duct Cleaning With Our Pros Today!
Concerned about your indoor air quality? There has never been a better time to clean and sanitize your ductwork. Trained in the latest air duct cleaning and sanitation methods, you can count on Cornerstone's technicians to help you achieve the clean ductwork and healthy indoor environment you deserve. For priority scheduling of duct cleaning and sanitization services, reach out online or dial 813-995-7558 today!
At Cornerstone, we are committed to helping you achieve the healthier, cleanest and safest home possible. In addition to our air duct cleaning services, we also offer these powerful IAQ solutions: