Gulf Coast & Central FL Air Duct Cleaning
Wipe Out Duct Dirt
Central air ducts are a breeding ground for mold, pollen, bacteria, and other contaminants, and repeated exposure to polluted air may exacerbate allergies, asthma, headaches, eye irritation, and respiratory conditions. At Cornerstone Pros, we provide duct cleaning and sanitizing that affordably improves indoor air and creates a healthier home or business environment. In addition, duct cleaning improves airflow and increases HVAC efficiency—which saves you money and lengthens system lifespan.
While any household or business may benefit from routine duct cleaning, it can be especially important when:
Residents smoke indoors or have pets
Debris limits HVAC airflow
Water damage or mold growth occurs in ducts
Microbial growth or "slime" is found in ducts
Dust or cobwebs are discharged from supply registers
Musty odors are emitted from ducts
Rodents have infested your home
Live Without Indoor Air Pollution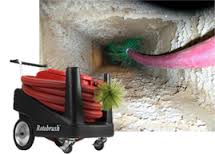 Concerned about indoor air quality? There has never been a better time to clean and sanitize your ductwork. Cornerstone's All-In-One Services duct cleaning program provides home and business owners with cleaner, healthier air at affordable prices. As part of this comprehensive program, you will receive
Duct debris and particulate removal using the ROTOBRUSH® advanced cleaning method.
Application of a hospital-safe airborne germicide duct sanitation fogging that eliminates pollutants where they breed.
Request Duct Cleaning in Tampa Bay Area
Trained in the latest duct cleaning and sanitation methods, Cornerstone technicians recommend filtration methods that remove indoor contaminants and improve overall indoor air quality (IAQ). For priority scheduling of duct cleaning and sanitization services, or to inquire about IAQ services in Tampa, Seffner, Brandon, Valrico, Land O' Lakes, Wesley Chapel, Lutz, Zephyrhills, Dade City, Hillsborough, Pasco, Hernando, Newport Richey, Port Richey, Trinity, Clearwater, Pinellas, Safety Harbor, Oldsmar or Keystone., call or email our team of experts.
All of our skilled technicians at Cornerstone Pros who work in your home or business are professionally trained, background checked and drug tested.  Our technicians also drive fully stocked trucks to ensure they are able to get the job done the first time out to your home or business.