Reviews, Referrals & Rewards
Our team works hard to earn your business, and we're proud of the reputation we've established. From online reviews to friends-and-family referrals, the truth is clear: Cornerstone delivers excellence. Click on the links below to access customer testimonials, share your opinion, or learn about our Cornerstone Cash Referral Program.
View our reviews on Google
The Lookers Nicole Josh
20:14 16 Apr 18
Matt C was our technician for our routine AC Maintenance, and he came out today. We were more than thrilled with his thoroughness, service, and the work performed today! We also appreciate that he was the same technician that came out for our first AC maintenance when we moved into the home. It makes us feel better since he already knows any issues or work we had done previously. He performed the maintenance, and noticed mold growing in our downstairs unit; and notified us promptly with his findings. My husband has severe allergies, asthma, and other respiratory problems so this was critical to take care of right away. We had him install the UV Light System downstairs (we already have one upstairs), and were very pleased with the outcome. We now have piece of mind that our air quality will be top notch thanks to Matt C and Cornerstone! We will not go anywhere else for these services!
Scott LeFante
22:57 13 Apr 18
We've lived in our house for over two years and finally got around to getting the AC checked out and tuned up. I'm glad we called Cornerstone. Rob W came out and did an amazingly thorough job. We found out the unit was extremely low on refrigerant and some other issues. He presented options for repair / wait and see as well as system replacement. No pressure no hassle and no shaming. After a few hours I decided to move forward with system replacement. We just paid a ton to redo our kitchen so the fact they offer financing options really helped make it an easy decision. Thank you.
Magali Merrell
22:58 21 Apr 18
Our A/C system needed some repairs, an a very deep and complete cleaning, which include every part of the system. The work of the technicians Larry F. and Jan M. was excellent and done in a very professional way.Very important the company CORNERSTONE PROS always send you a picture of the technicians that will visit your home the same day. Highly recommended!
Ryan McKenzie
14:34 07 Mar 18
We had Cornerstone out to help us figure out why our pipes were humming and do an overall check-up on our plumbing. Chris J. was awesome. He went through each bathroom, sink, etc. Cleaned drains, identified the cause of the humming issue right away, and gave us some great tips regarding the products in our home since they have a lifetime warranty. After the check-up, he gave us a quote on a few of the issues that would have been beyond my expertise to repair. He was actually able to fix those issues in under an hour after giving the quote. Highly recommend Chris J. and Cornerstone.Ryan
Sebastian Ball
16:33 08 Mar 18
Martin and Austin came out and performed incredibly well. They did a flame repair for literally half of the cost than another plumber had estimated. The professionalism exhibited by Martin was second to none I have experienced recently and I am so glad to have met both men who came out. The office staff were all very pleasant. I spoke with gennine, Angie, and I believe a Ryan as well and they all had great customer service and friendly guidance for how to move forward. I also spoke with Miguel about some pricing options for a repair and when I called back they were adequately noted in the file for me to benefit from. Will recommend! As a project manager in the area, I will certainly use them again. Thank you!
Nicole Looker
20:50 04 May 18
We use Cornerstone Pros for all of our home needs, and today it was for Electrical. We had a breaker that kept flipping every time we would use the outlets in the room. My husband thought the breaker just needed to be replaced, but since we do not have alot of experience with electricity, we called Cornerstone right away to schedule an appointment. I called at around 10:00PM, and a few minutes later, we had an appointment scheduled for the next day. The same electrician, Terry H, who has serviced our home before was the one who provided the service today. We are super thrilled he was the one who came again as he knows our homes history. That just adds a special touch to the service, and makes us feel more comfortable as homeowners. He is very knowledgeable, friendly, and upfront about what is going on. The issue was fixed within minutes, and we were more than thrilled! Super glad we decided to call for peace of mind and now we no longer need to worry about this!
Carl Seward
16:01 29 Apr 18
Kiel was very professional and honest. Very personable and did the job with perfection. He also helped us make sure we were getting the best for our money. I would highly recommend Cornerstone Pros, and especially Kiel!
Stacey meyers
11:45 13 May 18
Had an AC issue and found Cornerstone on the internet. They had GREAT customer feedback and I noticed that they offer a military discount, so I called! James was at my house within 4 hours and I couldn't have been more pleased! Not only was the young lady that answered the phone one of the most courteous people I have ever talked to at a business, James was amazing! He answered ALL of my questions (and there were a lot of them) and he fixed my issue, with a smile on his face!!! Cornerstone is a one stop shop with great people that know what they're doing and that know how to treat their customers! I was so happy, I signed up for the PM program! Thanks James!!!
Linda Galka
17:39 11 May 18
Entire Staff that we spoke with, from Ryan in the Office to Rob W @ our initial appointment, as well as Daniel N and J.P. on the day we had our new air-conditioning system installed; provided excellent service. They were all very professional, courteous & knowledgeable. We were impressed from the start with the communication, the text message/picture & ETA of Technicians. We had all questions & concerns answered; we actually learned a lot during this experience. Richie & I would not hesitate to recommend your company or use them again moving forward.
Alice DeVille
13:00 14 May 18
I had the pleasure of working with Gary Capes on May 10 when he arrived to check out my home's plumbing system and drain the water heater. Gary is knowledgeable, courteous and personable. He showed me the location of shut-off valves and explained his steps along the way as he inspected all the plumbing. Gary also adjusted the water level in one of the toilets and answered my questions as he checked each room. My home had nothing to repair at this time. I appreciate his straightforward responses and his attention to customer service and look forward to working with Cornerstone in the years ahead.
rafael caraballo
19:34 15 May 18
I spoke with Daniel N. on Chat to request service. Mandy called and connected me with Shelby for scheduling. She explained what to expect when they send someone out. James W. arrived right away at the beginning of the 4 hr window. Everyone was very polite and very professional. All were well informed and gave great quality service not to mention a great price.
Linda Tullos
18:35 20 May 18
We have been pleased with the service we have received from Cornerstone for the past four years. Most recently, we had Pete T install 2 coach lights on the front of our garage. He and his assistant were very friendly and congenial. They seemed very confident in their work and did a very good job. We would recommend them and cornerstone electrical services.
Kenneth Fernquist
15:49 25 May 18
I would recommend this company be one of the first that you call. They do everything they can to provide you with the best and most professional service.We had them install our AC, and when it needed work, they quickly resolved the problem. The only reason that I cannot give 5 stars is because a technician recently gave us a misquote, and the prices were a little steep on a recent job. That being said, the company has been very understanding in this matter and has gone out of their way to try to resolve this problem. If you need quick and reliable service at (usually) reasonable prices, then you cannot go wrong with Cornerstone Pros.
Michael Glisson
16:49 20 Jun 18
I have been a customer of Cornerstone for about 10+ years. Like any business, you have varying degrees of service levels with knowledgeable people. Today was an exception! Alvino M. was the technician doing a maintenance check on our AC unit. By far one of the best, most informed and professional employees that I have met with Cornerstone. He took time to review what he found, and based on information I shared with him some solid recommendations. No high pressure sales approach. It was easy to see he is very passionate about what he does.Angie, the office staff member is always professional and friendly. She is responsive to your concerns and follows through as she says she will! Very pleasant experience today!!!
Krystal Bethea
04:16 24 Jun 18
Our AC stopped working on Friday, so we called Cornerstone on Saturday afternoon and were able to get a tech to come out between 8pm and 1159pm. Daniel M was our tech. He called when he was on his way and arrived as scheduled. I told him what the problem was and he immediately understood what I was trying to tell him. He fixed the problem that there appeared to be with the inside unit and went outside to check the main unit. He suggested that we put some Freon in the system based on the problem and told me the cost up front. After about 10 minutes he came back inside and said that the system would not take any Freon and there may be a problem with our blower. He suggested we ride out the night and see if the system cools. He said if it does not cool try turning the units off with the breaker for 10 minutes then turn them back on to see if the system resets. If that does not work he said give them a call Sunday. Also, the service charge is good for 30 days. Which means If they come back out we only pay for labor or repairs. Daniel M was very nice and professional. He came in got the job done and was knowledgeable. I was very comfortable with him in my home and would definitely recommend cornerstone again. Thanks for coming out so late KUDOS TO DANIEL M.
Ashley Oliver
03:54 29 Jun 18
Scott was very nice and he explained everything in detail. He even told us about a few issues that we had with the system. We've only been in our new home 2.5 years and the ac has been having issues since the beginning of the year. Thanks to Scott we received a new thermostat and it's back cool in our home again. Thanks Scott for all your hard work and coming out so late. I recommend Cornerstone!
George Navedo
18:29 15 Jul 18
Great job repairing my air conditioning unit. Service was thorough and completed in a manner that exceeded expectations. Technicians arrived at time designated, was personable, knowledgeable and overall very professional. It is difficult to find now days technicians and companies that provide such outstanding service like Cornerstone Pros .
Sarah Bridges
19:04 17 Jul 18
Hanna got us setup on call for first available right away. Then I was sent a detailed text when the technician was dispatched that even included picture I.D. Reece got here quickly, was very polite and let me know their rates right away. He diagnosed and fixed the problems quickly and at a fair price. I will definitely use them again and highly recommend them for you plumbing needs.
John Maruszak
15:30 19 Jul 18
Typical Florida day - hot and muggy. Of course, that's when A/C issues are bound to occur. Came home from shopping, see water dripping from garage ceiling - oh, boy -here we go!Checked drain outside, it is flowing - slow; but flowing - obviously too slow and something is clogged. Called Angie at Cornerstone. Polite friendly and concerned. She was able to get me scheduled quickly, and shortly, Michael the technician appeared. We quickly reviewed the problem - discussed what I had seen and done and within a few minutes he was able to locate the cause of the problem. He cleared the blockage at the coil drain and also cleared the pan drain & line out and was done in minutes. KUDOS to Angie & Michael and thank you for your usual excellent service!
DeAnna Helman
15:29 21 Jul 18
Everyone was Great Pam called right away. Dispatched the tech and called to notify me he was on the way Martin was professional and did a fantastic job. He kept us informed he walked us through what he was going to do and let us know the cost upfront. Our plumbing is freely flowing again. Very happy with cornerstone plumbing. Will not hesitate to call again!
Erin Whitley Williams
21:18 01 Aug 18
Recently had Cornerstone provide a plumbing inspection benefit through a service plan I have from a previous service. Reese came out and did a fantastic thorough job of inspecting the house. He educated me on so much that I needed to know as a homeowner and then provided estimates for the future work I'll need done to bring my old house up to date. All estimates fit within researched and expected costs. I've been so happy with the quality of work that Cornerstone is my go to team for AC, electrical, and plumbing. Highly recommend!
Tony Sorrentino
00:00 06 Aug 18
We had a couple different services from Cornerstone, electrical and plumbing.Both Pete and Gary were great.We had to cancel our first appointment. Not a problem.After re-scheduling, they sent an email to confirm and then again on the day of the appointment.Both techs called us when they were on the way.Each of them helped identify a problem my other handyman had missed.Very professional. Gave me options. Didn't mess around. Great guys.We also have an AC contract with Cornerstone. they've been terrific each time we've called.
Jewhu Contact
19:49 06 Aug 18
Martin was awesome, super nice. Did everything he needed and let me know the whole way. Gave me lots of great info, made sure I knew where basic things were or how to turn them off. Gave me great info about service and product costs. No sales pitches, no fluff. Just gave me straight answers, answered all my questions no problem. Very happy I have gone with Cornerstone twice and have a 3rd visit already planned with the electrical side!
Keith Theisen
14:15 21 Aug 18
We have used Cornerstone for our AC needs for almost a decade and have always been very impressed with the quality and friendliness of their technicians. We really love their new tool that lets you see EXACTLY where the technician is on their way to you. No more waiting and wondering when they will get here.They have now added plumbing and electrical to their services so when we had 2 clogged drains they were the first one that we reached out to. Martin showed up and he was nothing short of phenomenal... so friendly and patient with all of my many questions. He gave me lots of ideas to save money on some of our other plumbing concerns such as getting back with the manufacturer to replace a failing faucet first rather than buying a new one and getting back with the contractor that installed our shower to have him make the corrections we needed under the warranty that General Contractors provide.He was very efficient and had our issues fixed quite quickly. He also shared some ways to save more through their maintenance plans. We found them to be a pretty good deal and signed up for one that includes regular inspections of our AC units, electrical and plumbing as well as discounts on trip charges and parts costs.My wife and I highly recommend Cornerstone. They have always been our go to... and they do not break the bank... or even try to.
Dave Lynch
19:10 11 Sep 18
Daniel and JP were my Installation Techs. They were very polite and professional, and did a very thorough job. They were delayed by hard rain and stayed well past when they should have left to complete the install, and cleaned up very well before they left. Daniel emailed me the receipt and Permit Inspection requirements with photos of the completed job. I also talked with Pam and Stephanie at the office, and they were very responsive and helpful, and called me back immediately with answers to my questions. My only regret is I got other written estimates only after I committed to Cornerstone, and some prices were better, but the company has a very good reputation and after speaking to the Service tech initially ( Robert) , he convinced me it would be beneficial , based on their track record, and experience. I trust they will not fail me in any way .
Next Reviews
Write a review
View our reviews on Yelp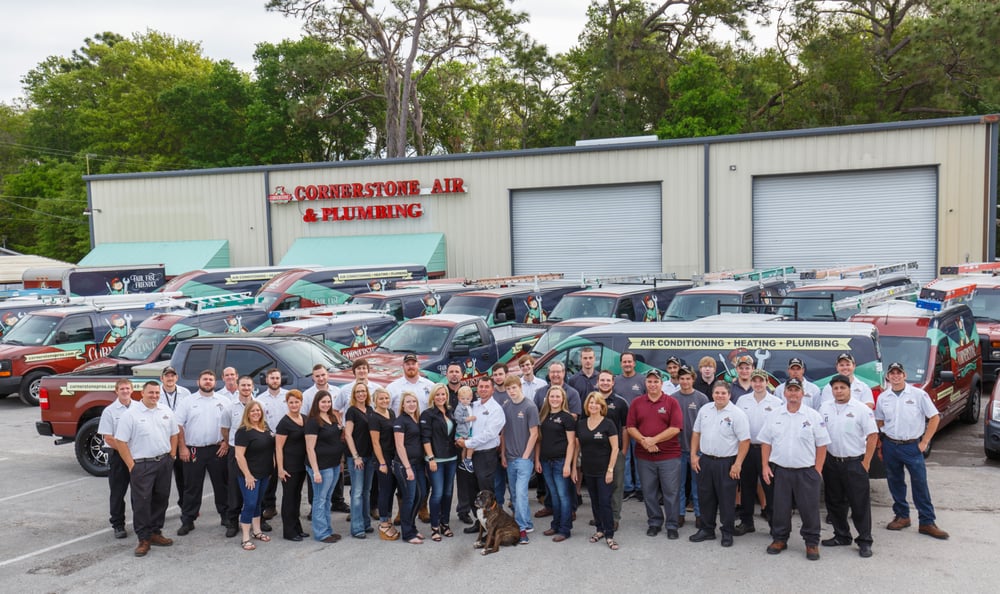 Based on 67 Reviews
Check us out on ReviewBuzz
Check us out on HomeAdvisor.com
RATINGS & REVIEWS