Reviews, Referrals & Rewards
Our team works hard to earn your business, and we're proud of the reputation we've established. From online reviews to friends-and-family referrals, the truth is clear: Cornerstone delivers excellence. Click on the links below to access customer testimonials, share your opinion, or learn about our Cornerstone Cash Referral Program.
View our reviews on Google
The Lookers Nicole Josh
20:14 16 Apr 18
Matt C was our technician for our routine AC Maintenance, and he came out today. We were more than thrilled with his thoroughness, service, and the work performed today! We also appreciate that he was the same technician that came out for our first AC maintenance when we moved into the home. It makes us feel better since he already knows any issues or work we had done previously. He performed the maintenance, and noticed mold growing in our downstairs unit; and notified us promptly with his findings. My husband has severe allergies, asthma, and other respiratory problems so this was critical to take care of right away. We had him install the UV Light System downstairs (we already have one upstairs), and were very pleased with the outcome. We now have piece of mind that our air quality will be top notch thanks to Matt C and Cornerstone! We will not go anywhere else for these services!
Scott LeFante
22:57 13 Apr 18
We've lived in our house for over two years and finally got around to getting the AC checked out and tuned up. I'm glad we called Cornerstone. Rob W came out and did an amazingly thorough job. We found out the unit was extremely low on refrigerant and some other issues. He presented options for repair / wait and see as well as system replacement. No pressure no hassle and no shaming. After a few hours I decided to move forward with system replacement. We just paid a ton to redo our kitchen so the fact they offer financing options really helped make it an easy decision. Thank you.
Magali Merrell
22:58 21 Apr 18
Our A/C system needed some repairs, an a very deep and complete cleaning, which include every part of the system. The work of the technicians Larry F. and Jan M. was excellent and done in a very professional way.Very important the company CORNERSTONE PROS always send you a picture of the technicians that will visit your home the same day. Highly recommended!
Ryan McKenzie
14:34 07 Mar 18
We had Cornerstone out to help us figure out why our pipes were humming and do an overall check-up on our plumbing. Chris J. was awesome. He went through each bathroom, sink, etc. Cleaned drains, identified the cause of the humming issue right away, and gave us some great tips regarding the products in our home since they have a lifetime warranty. After the check-up, he gave us a quote on a few of the issues that would have been beyond my expertise to repair. He was actually able to fix those issues in under an hour after giving the quote. Highly recommend Chris J. and Cornerstone.Ryan
Sebastian Ball
16:33 08 Mar 18
Martin and Austin came out and performed incredibly well. They did a flame repair for literally half of the cost than another plumber had estimated. The professionalism exhibited by Martin was second to none I have experienced recently and I am so glad to have met both men who came out. The office staff were all very pleasant. I spoke with gennine, Angie, and I believe a Ryan as well and they all had great customer service and friendly guidance for how to move forward. I also spoke with Miguel about some pricing options for a repair and when I called back they were adequately noted in the file for me to benefit from. Will recommend! As a project manager in the area, I will certainly use them again. Thank you!
Nicole Looker
20:50 04 May 18
We use Cornerstone Pros for all of our home needs, and today it was for Electrical. We had a breaker that kept flipping every time we would use the outlets in the room. My husband thought the breaker just needed to be replaced, but since we do not have alot of experience with electricity, we called Cornerstone right away to schedule an appointment. I called at around 10:00PM, and a few minutes later, we had an appointment scheduled for the next day. The same electrician, Terry H, who has serviced our home before was the one who provided the service today. We are super thrilled he was the one who came again as he knows our homes history. That just adds a special touch to the service, and makes us feel more comfortable as homeowners. He is very knowledgeable, friendly, and upfront about what is going on. The issue was fixed within minutes, and we were more than thrilled! Super glad we decided to call for peace of mind and now we no longer need to worry about this!
Carl Seward
16:01 29 Apr 18
Kiel was very professional and honest. Very personable and did the job with perfection. He also helped us make sure we were getting the best for our money. I would highly recommend Cornerstone Pros, and especially Kiel!
Stacey meyers
11:45 13 May 18
Had an AC issue and found Cornerstone on the internet. They had GREAT customer feedback and I noticed that they offer a military discount, so I called! James was at my house within 4 hours and I couldn't have been more pleased! Not only was the young lady that answered the phone one of the most courteous people I have ever talked to at a business, James was amazing! He answered ALL of my questions (and there were a lot of them) and he fixed my issue, with a smile on his face!!! Cornerstone is a one stop shop with great people that know what they're doing and that know how to treat their customers! I was so happy, I signed up for the PM program! Thanks James!!!
Linda Galka
17:39 11 May 18
Entire Staff that we spoke with, from Ryan in the Office to Rob W @ our initial appointment, as well as Daniel N and J.P. on the day we had our new air-conditioning system installed; provided excellent service. They were all very professional, courteous & knowledgeable. We were impressed from the start with the communication, the text message/picture & ETA of Technicians. We had all questions & concerns answered; we actually learned a lot during this experience. Richie & I would not hesitate to recommend your company or use them again moving forward.
Alice DeVille
13:00 14 May 18
I had the pleasure of working with Gary Capes on May 10 when he arrived to check out my home's plumbing system and drain the water heater. Gary is knowledgeable, courteous and personable. He showed me the location of shut-off valves and explained his steps along the way as he inspected all the plumbing. Gary also adjusted the water level in one of the toilets and answered my questions as he checked each room. My home had nothing to repair at this time. I appreciate his straightforward responses and his attention to customer service and look forward to working with Cornerstone in the years ahead.
rafael caraballo
19:34 15 May 18
I spoke with Daniel N. on Chat to request service. Mandy called and connected me with Shelby for scheduling. She explained what to expect when they send someone out. James W. arrived right away at the beginning of the 4 hr window. Everyone was very polite and very professional. All were well informed and gave great quality service not to mention a great price.
Linda Tullos
18:35 20 May 18
We have been pleased with the service we have received from Cornerstone for the past four years. Most recently, we had Pete T install 2 coach lights on the front of our garage. He and his assistant were very friendly and congenial. They seemed very confident in their work and did a very good job. We would recommend them and cornerstone electrical services.
Kenneth Fernquist
15:49 25 May 18
I would recommend this company be one of the first that you call. They do everything they can to provide you with the best and most professional service.We had them install our AC, and when it needed work, they quickly resolved the problem. The only reason that I cannot give 5 stars is because a technician recently gave us a misquote, and the prices were a little steep on a recent job. That being said, the company has been very understanding in this matter and has gone out of their way to try to resolve this problem. If you need quick and reliable service at (usually) reasonable prices, then you cannot go wrong with Cornerstone Pros.
Next Reviews
Write a review
View our reviews on Yelp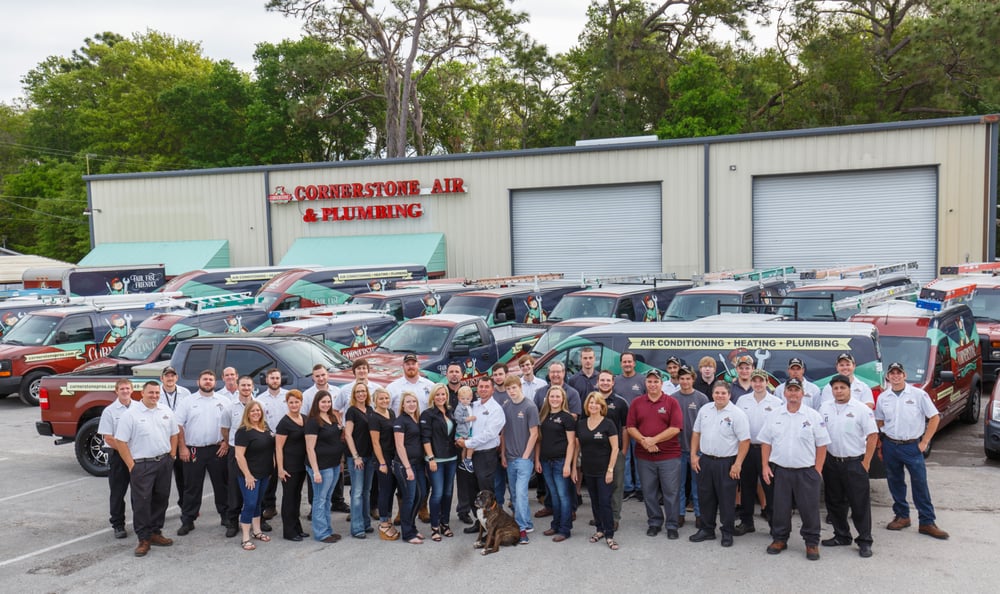 Based on 59 Reviews
Caroline O.
2018-05-08 13:20:29
They do electric, plumbing, a/cVery professional, very knowledgeable. Appointment receptionist very polite. Overall a great reliable company!
Kedar L.
2018-01-19 17:15:29
We had a malfunction with our heating and air conditioning and Cornerstone was extremely responsive and quick to send a service technician. Brandon was...
Krystle M.
2018-05-27 20:51:14
Earlier today, I used Yelp's "Request an Estimate" service in search of a plumber to clear a complicated backup in a multi-unit shared plumbing line. Mind...
Check us out on ReviewBuzz
Check us out on HomeAdvisor.com
RATINGS & REVIEWS