Circuits, Rewiring & Electrical Services in Tampa Bay
Home Rewiring & Circuits Upgrades for a Safer Home
Protecting the functionality, safety and value of your home isn't an option; it's a necessity. That's why it's important to maintain the wellbeing of your electrical system.
Thankfully, Cornerstone Pros—Air Conditioning, Plumbing, Electrical, is the company Florida residents can trust to protect them from the dangers of an inefficient or faulty electrical systems—no matter what. So, throughout Pasco County, the combination of our reliable electrical services and our team's dedication to Suncoast homeowners' safety is guaranteed to help you achieve the functionality and ambiance you desire. And now, with our emergency service, we promise it will last.
All of our skilled technicians at Cornerstone Pros who work in your home or business are professionally trained, background checked and drug tested.  Our technicians also drive fully stocked trucks to ensure they are able to get the job done the first time out to your home or business.
Your Electrical Wiring Needs a Refresh
Updating the electrical wiring in your home or business will flip the switch to a safer and more energy-efficient home. But, how do you know whether your system needs an overhaul?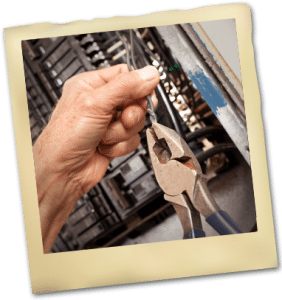 Well, thankfully, there are telltale warning signs that indicate your electrical system isn't operating at its peak performance:
Breakers that trip or fuses that blow repeatedly
A tingling sensation when you touch an appliance
Flickering or dimming lights
A persistent burning smell from a room or appliance
Warm, discolored or sparking outlets
Outdated two-prong, ungrounded outlets
Lack of ground fault circuit interrupter outlets in kitchens, baths and other areas exposed to moisture
If any of these signs occur, contact Cornerstone Pros right away!
Illuminating Benefits
The benefits associated with updating your home's or business's electrical system are shocking:
Increases energy efficiency
Saves you money on electric bills
Enhances your home's safety
Guarantees your home can be insured
So, if you're a property owner in Pasco County, FL, or a surrounding Tampa Bay Area community, updating your home's or building's wiring is the most effective way to safeguard your peace of mind—and your budget.
Upgrading Circuit Breakers
Circuit breakers are directly connected to the flow of electricity and the amount of power your home produces. Their main responsibility is to protect your home or business from an electrical disaster. So, when a circuit breaker trips, it means you're trying to use more energy than your outlet can handle. However, with a power upgrade from Cornerstone Pros, we promise you'll be able to meet the power needs of your home or business.
So, it's time to say goodbye to the endless tripping of your circuit breaker and say hello to a home or business with a safe and adequate supply of power.
Increase Your Home's Electricity Flow With the Electrical Pros
Don't get left in the dark. Instead, turn the light on for a safer space—and the Cornerstone Pros' team can help. For a home or business in Pasco County, FL, choosing to update your building's wiring and circuit breakers means enhanced ambiance, greater functionality, and, most importantly, improved safety. Our certified electricians have the expertise and hands-on experience to rewire your home or business in the most efficient manner with maximum results.
Our team is taking the extra step, creating an electrical maintenance plan that provides your system with the TLC it needs. This plan includes:
One annual electrical inspection
Inspect and check main breaker panel
Check GFls
Test receptacles
Inspect, replace & repair switches
No service fee with repair
15% discount on parts and labor
Priority service
Even more, this plan is transferrable to a new home or business owner, guaranteeing your space is safe and secure for years to come. Feel free to ask your technician for details about our electrical package.
Contact Cornerstone Pros for Circuit Upgrades and Home Rewiring on the Suncoast
Whether you're in need of an electrical repair or a whole home rewiring, Cornerstone Pros' team has your back for all of your electrical needs. Simply fill out our online form or call us at 813-995-7558 today!