Water Heaters in Tampa Bay Area & the Gulf Coast
Hotter Water & Warmer Servicing
Has this ever happened to you? You're all ready for a nice, relaxing shower, but your water heater leaves you out in the cold. Talk about steamed! From taking a shower to washing the dishes, individuals need hot water throughout the day.
So, it's time to say goodbye to cold showers for good—and the team at Cornerstone Pros' can help. Our reliable water heater services in the Tampa Bay region will help keep your water temperatures where you need it, day in and day out.
Turn Up the Heat
Water heaters are essential to your home comfort system. Don't let your unit give you the cold shoulder. Schedule a professional service visit today. From a dependable water heater installation in Trinity, FL, to proficient water heater repairs in Pasco County or Hillsborough County, to thorough tank maintenance in Land O' Lakes, every Florida homeowner deserves an unfailing system and pure comfort.
Unfortunately, as a water heater ages it will start to fail. Warning signs include corrosion buildup on pipe fittings, water leaks, hot water that doesn't last long enough or hot water that is MIA. Often, plumbing malfunctions occur at the most inconvenient times. That's why at Cornerstone Pros, our company offers emergency plumbing services to towns throughout Pasco and Hillsborough counties, to ensure your comfort never goes cold.
A Warm Welcome for Reliability
At Cornerstone Pros, we offer residential water heaters that meet every homeowner's hot water needs. Our plumbing professionals will promptly evaluate the health and performance of your unit to find the solution that's right for you. Then, our certified plumbers will install, replace, repair and maintain your system to keep the hot water flowing.
All of our skilled technicians at Cornerstone Pros who work in your home or business are professionally trained, background checked and drug tested.  Our technicians also drive fully stocked trucks to ensure they are able to get the job done the first time out to your home or business.
Surpassing the Superior Standard With These Industry-Leading Brands
Our team has high water heater standards and we refuse to recommend or install any unit that we don't stand behind 100%—which is why our company only offers water heaters from the best brands in the industry, including State, Navien, Rinnai, trutankless and more! We chose to back these suppliers because the quality of their water heaters continuously exceeds our team's expectations—and we guarantee it will surpass yours, too.
From electric to gas to hybrid water heater models, our extensive lineup of residential hot water systems from top-of-the-line brands will deliver what you deserve: dependable hot water for years to come.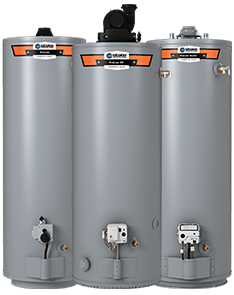 Electric & Gas Water Heaters
Electric and gas water heaters deliver high energy- and cost-efficiency. Available in several tank sizes, they are ideal for homeowners who expect a reliable hot water solution capable of meeting their demands.
Hybrid Models – Electric Heat Pump & Gas
Hybrid water heaters combine the best of conventional and tankless hot water systems. Not only do these units provide long-lasting warmth for your H2O, but they save you money and deliver more thermal efficiency.
Endless Hot Water Is a Reality With trutankless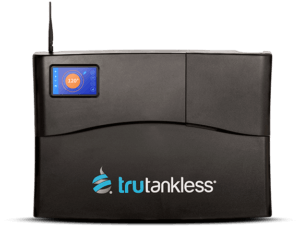 If you're looking for a water heater that delivers endless hot water, eliminates waste and offers superior energy efficiency that leads to significantly lower energy bills, then tap into the trutankless® water heater. With this hot water solution, no tank is necessary. Rather, this electric tankless water heater heats water on-demand for 99 percent operational efficiency. This system saves you valuable space and results in a steady stream of hot water when you need it most. Engineered with safety in mind, its design incorporates numerous user-friendly features along with technologies like dry-fire defense, freeze protection, smart-grid capabilities and leak detection that prevent product failure. Trutankless is one of the most intelligent, reliable and efficient heat exchangers on the market.
Contact Cornerstone Pros for Water Heater Services in Florida
The passion our team has for the plumbing industry drives our company's commitment to keep you comfy. That's why from efficient whole house repiping to thorough drain cleaning to superior water heater services, Cornerstone Pros will make sure you're satisfied during every visit and treat your home or business with the utmost care.
Whether you're in need of Plumbing, HVAC or Electrical services in or near Land O'Lakes, FL, Cornerstone Pros is the HVAC company you can trust. To request an air conditioning service in the Tampa Bay area, simply us call at 813-995-7558 or email our team today!