Water Purification & Filtration in West Central Florida
Water Treatments for Cleaner, Healthier & Better H2O
Water is essential for healthy living. That's why having access to clean water is a necessity for homeowners in Land O' Lakes, Westchase, Hillsborough County and beyond. And the most convenient and economical way to tap into healthy H2O is directly from your faucet.
Fresh water plays a critical role in your daily routine. Now, the team at Cornerstone Pros can help keep your water supply clean and safe. From Trinity, FL, to Brandon, FL, Dade City, FL, and beyond, our superior water purification and filtration services provide residents across the Tampa Bay Area with the pure water they expect—and deserve.
Improve the Quality of Your Water
Having access to clean water shouldn't be a major project. In fact, it's as simple as adding a purification or filtration device to your system. The trick is to find the right system for you and your home. But homeowners in New Port Richey, Wesley Chapel, Lutz or any Suncoast city face different water purity challenges.
Thankfully, Cornerstone Pros can help you find the best system to keep your water clean and great tasting. Check out how the systems we offer can make a big splash in your water's purity:
Water Softener
Cornerstone offers a high efficiency whole-house water softener for well systems and city water that's designed to eliminate scale and hard water from your daily life. When you install this system, you will be able to feel the difference, literally.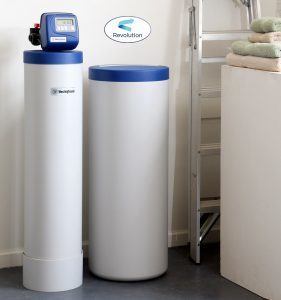 Softer water has an array of benefits, which include:
Allows detergents and soaps to work more efficiently
Removes hard water, eliminating hard water spots
Elongates the lifespan of appliances
Reduces energy usage
Leaves laundry brighter and cleaner
Protects plumbing fixtures from damaging scale build-up
… And so much more!
So, if you're looking for softer water, look no further. Our water softener is the right solution for you.
Whole-Home Carbon Filter
It's time to eliminate that awful chlorine taste from your water with our whole-home carbon filter. This 3-in-1 water treatment system removes chlorine and ammonia from every tap in your home to improve the overall quality and safety of your H2O.
Eliminates harmful disinfection byproducts & chemicals
Improves water quality & taste
This multipurpose system is known as the No. 1 tool in the water improvement industry and the solution to provide the best possible water to your family.
Self-Cleaning System
Our top-of-the-line self-cleaning system does the job of two systems. This maintenance-free system treats and removes:
Chlorine
Bad tastes & odors
Hard water
UV Disinfection System
Sometimes the issues with your water are more than what meets the eye. When this happens, you need our UV Disinfection System to kill bacteria in your well system's water, resulting in healthier water flowing throughout your home.
Using ultraviolet light, this system is guaranteed to destroy 99 percent of:
It's time for you to enjoy cleaner water from the cellular level on up.
All-In-One Conditioner
Our All-In-One Conditioner does it all in one small package. First, this system will remove chlorine, chlorine by-products and ammonia. Then, it will clear out hard water and replace it with softer H2O.
We guarantee this system will remove and treat for:
Chlorine
Bad tastes & odors
Hard water
Drinking Water Solution
Cornerstone Pros will install a 5-stage reverse osmosis (RO) system at the kitchen sink. This low-cost drinking water solution delivers bottled water quality and taste from an at-home filtering solution. Our RO system comes with one-year replacement filters and glass filler.
The Pros Know H2O
Regardless of your water issues, Cornerstone Pros' water filtration services are guaranteed to find an effective treatment for your home. That's because our team is the Tampa Bay area's choice for all things plumbing. So, from installing a new hot water heater in your home to maintaining your pipes through our thorough drain cleaning services, our certified plumbers are here to help drain away your worries—for good. And now, thanks to our emergency plumbing services, we guarantee we'll show up whenever you need us—days, nights or weekends—to handle your emergency plumbing problem.
Contact Cornerstone Pros for Water Purification & Filtration Services in Tampa Bay Area
It's time for the Tampa area's residents to enjoy clean drinking water again. To improve the quality and taste of your H2O, simply fill out our online form or call us at 813.995.7558 today!